Sugar Mill Pinions: Unlocking a World of Benefits in Sugar Processing
In the competitive landscape of the sugar industry, efficiency, reliability, and performance of machinery are non-negotiable. One crucial component in ensuring smooth operations within a sugar mill is the pinion. At IMCO, we understand the significance of this component, and that's why we've committed our expertise to developing a groundbreaking solution: our cutting-edge Sugar Mill Pinions.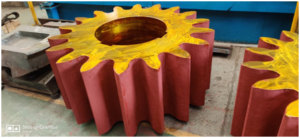 A Testament to Superior Craftsmanship
Our Sugar Mill Pinions are not simply a product; they are the embodiment of innovative techniques married with premium materials. We meticulously design and craft our pinions to deliver exceptional performance and longevity, ensuring they consistently meet the demanding requirements of sugar processing.
Customization and Compatibility
We appreciate that every sugar mill is unique, with specific operational requirements and constraints. That's why our Sugar Mill Pinions are customizable, tailored to suit your mill's distinctive specifications. This adaptability ensures a seamless fit and smooth operation, enhancing overall productivity and reducing the likelihood of interruptions or malfunctions.
High Corrosion Resistance
Corrosion resistance is another key attribute of our Sugar Mill Pinions. Given the corrosive nature of sugar juice and the demanding work environment, our pinions have been specifically designed to resist corrosion, prolonging their lifespan and maintaining their high-performance standards.
Rigorous Quality Testing
Our commitment to delivering superior quality is unwavering. Each of our Sugar Mill Pinions undergoes rigorous quality tests conducted by our dedicated team of experts. We leave no stone unturned in ensuring that only the highest quality pinions reach our customers, living up to our reputation for exceptional quality and reliability.
Hassle-Free Operations and Uninterrupted Productivity
The ultimate goal of our Sugar Mill Pinions is to deliver hassle-free operations and uninterrupted productivity. Their precise functioning minimizes the chance of unexpected breakdowns, ensuring a smooth, efficient workflow. With our pinions, you can focus on what truly matters – maximizing your mill's output and profitability.
Experience the Pinnacle of Sugar Mill Performance
Choosing our Sugar Mill Pinions means choosing a world of benefits – longevity, operational efficiency, precision, and more. It's an investment in the seamless operation and increased productivity of your sugar mill.
We invite you to experience the pinnacle of sugar mill performance with our cutting-edge Sugar Mill Pinions. Contact us today to learn how our Sugar Mill Pinions can revolutionize your mill's operations and drive your productivity to new heights. With IMCO, experience the difference innovation and expertise can make.